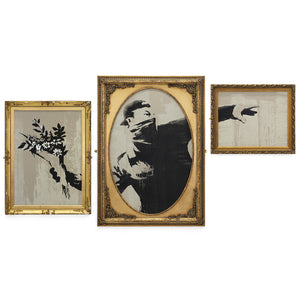 Currently Out of Stock
This is Banksy's first experiment with a new technique for making prints - spray the stencil onto processing film and expose the result directly onto a silk screen. This avoids photography or computer manipulation and creates a super accurate analogue representation of gestural mark making. In other words - looks pretty dope.
Comes as set of three signed and numbered.
A black and white hand finished edition will be available at some point.
Notes: Shipping is not included. We'll make contact with you to arrange shipping options when your order is ready to dispatch. Framing not included.
We also accept payment in Euros.